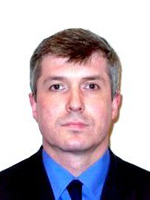 Deputy General Director of Operations
Born in 1963 in Kirov city.
Doctor of Engineering, Associate Professor.
Educational background
Graduated from the Chuikov Perm Higher Military Command and Engineering School of Missile Forces in 1985, specializing in the operation of aircraft instrumentation and control systems.
Married with one son.
Research field
Organizational management: automation of intervention control system operating processes, data support.
Author of 82 scientific works in the aforementioned field. 7 engineering candidates defended their doctoral theses under his supervision.