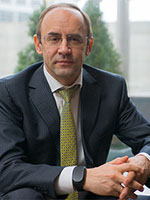 Leonid Tikhomirov
CEO of the ITPS Group of Companies
Born in 1962 in Perm. Graduated from Perm State Technical University in 1984, majoring in Automation and Telemechanics.
Doctor of Engineering.
Co-headed the Integrated Management System pilot development, implementation and replication projects in oil and gas producing companies and for the foreign assets for some of the largest oil companies: Lukoil, Rosneft, Lukoil Overseas Holding Ltd. and Russneft, amongst others.
Leonid also helped with the design, construction and commissioning of IT infrastructure and software packages of key business applications for major assets of Russian oil companies abroad (Kazakhstan, Uzbekistan, Iraq, UAE).
At present, he is one of Intelligent Oil-Field concept creators for the Russian oil and gas producing enterprises, managing development and implementation of the integrated domestic product AVIST for oil and gas production based on Digital Production for the largest Russian oil companies. He is an expert in the field of operations digitalization and has authored several publications on the subject and appeared at both national and international conferences.
Married with two children.
Hobbies – alpine skiing, snowboarding, horse riding, diving, kayaking.