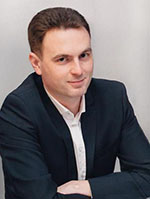 Head of the Digital Solutions Centre
Born in 1986, in Perm. In 2012, graduated from Perm State National Research University, specializing in Mathematical Methods in Economics. Studied at Perm State National Research University, specializing in data security
Currently, he is the Head of the ITPS Group of Companies' Digital Solutions Centre and oversees the development and implementation of innovative products for the industrial Internet of things, BigData, mobile solutions, and systems of bio-telemetry.
A member of the Perm region Young Scientists and Specialists Council, based at the regional Ministry of Education and Science.
Life mantra: surround yourself with the right people in life and the results will speak for themselves. Dreams come true, sooner or later, one way or another (Max Frei).