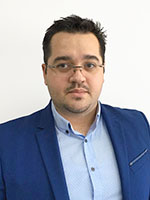 ITPS General Manager for the Middle East
Born in 1986 in Uzbekistan. In 2009, graduated from the Moscow Institute of Management and Service, with a degree in Corporate Management.
Since 2011 Sanjar has been working for IT Professional Solutions Middle East of which he was appointed general manager in 2016.
As a project manager, he has been part of IT support projects in the UAE and Iraq at the world's largest oil field West Qurna-2.
Currently he is part of the campaign to promote the AVIST digital production platform in the Middle East market, developing tailored production digitalization solutions for various sectors of the economy, as well as participating in international and Russian-based conferences and exhibitions.
Married with one son.
Hobbies — travelling, debate clubs and board games.