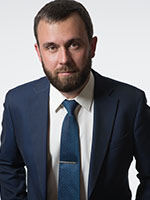 Director for Digital Transformation of Oil and Gas Companies
Born in 1980 in Nefteyugansk. Graduated from Gubkin Russian State University of Oil and Gas, in 2002, majoring in "Development and operation of oil and gas fields" subsequently — majoring in "Economics and management at oil and gas enterprises" in 2013.
A member of the industry expert council for mechanized oil extraction.
Launched the Centre for Integrated Operations specific innovation project at one of the largest companies in oil and gas sector and led the project implementation with the aim of digital transformation in Upstream. Participated in creating core software and business applications package. Creator of the Intelligent Oil-Field concept, and author of the RN-WellView software package.
Came up with the concept and strategy for bringing digital solutions to GE Digital business.
Currently Kirill manages the development of the AVIST domestic digital platform in the field of integrated solutions for oil and gas production operations based on "Digital Production" principles, within the largest Russian oil and gas companies.